Ujo glow in the dark products can be charged, and discharged indefinitely. A small UV torch is included with your purchase of a glow product.
Strontium aluminate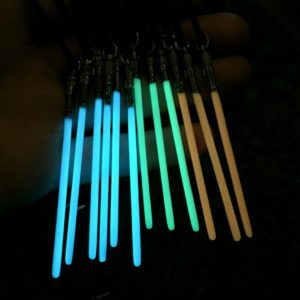 Photoluminescent glow powder (pigment) strontium aluminate is a new type of environmentally friendly alkaline earth aluminate. It is non-toxic and non-radioactive. Pigment particles are charged by most any visible light or instantaneously by ultraviolet light. Photo luminescent pigment then releases energy in the form of visible light (glowing in the dark) for as long as 24 hours, depending on the color. Photo luminescent pigments provide a duty-cycle operation with a very high ratio of glow time to charging time required.
Strontium aluminate is vastly superior to its predecessor, copper-activated zinc sulfide (ZnS ), being about 10 times brighter and also 10 times longer glowing.
It is temperature resistant to 350°F or 176°C, but I still recommend removing your jewellery before going to the sauna.
From the strongest glow to the weakest.
Green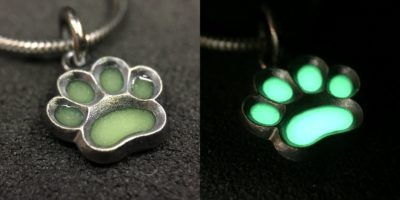 GLOW COLOR: Green
DAY COLOR: Natural with a slight green hue
GLOW DURATION: Over 12 Hours
After being exposed to artificial or sun light for just a few minutes it can emit a brilliant luminous glow for hours. If left to charge for over an hour, it is easily capable of glowing all night long. It will not lose it's ability to hold and emit light energy for at least 20 -30 years.
Aqua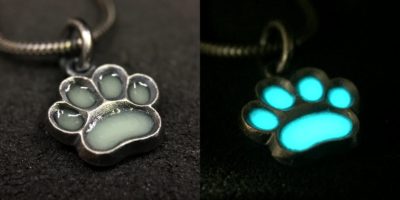 GLOW COLOR: Aqua
DAY COLOR: Natural with a slight blue hue
GLOW DURATION: Over 12 Hours
An off-white colour in daylight and glows a bright blue-green aqua in the dark and under UV or blacklight.
Pink

GLOW COLOR: Pink
DAY COLOR: Purple
GLOW DURATION: 4-8 Hours
A vivid pink in daylight. Night time reveals a soft, exquisite pink glow with a slight purple/blue hue.
Orange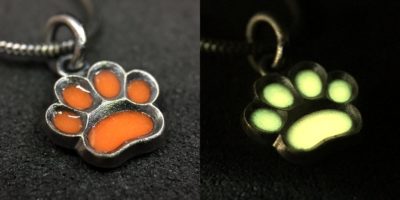 GLOW COLOR: Gold
DAY COLOR: Orange
GLOW DURATION: 4-8 Hours
Vibrant orange in daylight and it will glow a lustrous yellow-gold luminosity in the dark and under UV or blacklight.
Pink

GLOW COLOR: Gold
DAY COLOR: Pink
GLOW DURATION: 4-8 Hours
A soft pink in daylight. Night time reveals hues of yellow-gold with hints of pink.
This material is considered to be a non-hazardous substance under the United States Federal OSHA (Occupational Safety and Health Administration) Hazard Communication Standard 29 CFR 1910.1200.
Product name
Photo luminescent pigment
Composition/Components Information
Strontium Aluminate (SrAl) doped with Europium (Eu) and Dysprosium (Dy) for the ultimate glow.
Measures in Case of Fire
Product is not inflammable and not explosive.
Information on Toxicity
The pigment is safe as it contains NO radioactive or toxic materials.
Information on Ecological Effects
Pigment is chemically and biological inert. As it does not contain soluble heavy metals, the product does not cause ecological or toxicological problems like other compounds containing heavy metals.
The glow pigment is mixed with epoxy.
Epoxy is a two-part formula. It has a liquid hardener that is added to a liquid resin and mixed to yield an epoxy resin that is easy to handle. Epoxy resins and curing agents are considered harmful when handled in their uncured state (through skin contact, inhaled or swallowed).
Base
Epoxy resin / Polymercaptan hardener
Cured Form
Non-flammable solid.
Cured epoxy is to be regarded as harmless. But just to be extra safe, keep it out of reach of small children.