Ever since I was a kid I've always enjoyed meticulous work, be it huge puzzles, drawing, whittling a spoon or figuring out how small of an origami jack-in-the-box I could fold. After almost ten years of work experience in different jobs I finally quit the last one and moved to Oulu on Christmas 2010. It was time for a whole new challenge – fulfilling my lifelong dream of becoming a craftsman.
With no previous experience in the craft, only loads of enthusiasm and passion to learn something totally new and exciting, I began my journey to become a jeweller. I was lucky to be accepted to Oulu vocational college and the thrive to continue with this profession only kept growing during my studies. I graduated as an artisan jeweller in June 2014. The following year I worked as an assistant teacher at the same school and in April 2017 I finally started my own business. I continued my studies in 2019 and graduated as a goldsmith in 2021.
UJO stands for unique, joyful and original jewellery. My aim is to craft pieces of high quality with great attention to details while adding a touch of humor and inventiveness. The ideas for my own collections come from nature, pop culture, occasionally from some scribblings on a piece of paper and even from the material itself. Digging into a piece of wax or a sheet of metal is extremely relaxing and to find the pieces hiding inside is even more rewarding. Snappy Snapperson and the cherry blossoms were created in this method.
I worked on a rented space in a jewellers workshop for four years in Oulu, Finland. After having a few pop up shops with a few colleagues over the years, we were finally able to open a retail space in the Oulu Market in the autumn of 2020. More info about our workshop and boutique, Paja1605.
My services include all traditional repairs as well as bespoke pieces. The high quality materials used in all my products come from reputable Finnish and Nordic producers. I use mainly sterling silver and precious jewels in my own collection. Bespoke pieces are made in your choice of metal (or from your own materials) and gemstones/diamonds.
I craft jewellery both traditionally and by 3D modelling. Turn around time for bespoke pieces varies from a few weeks to several months.
When I started my studies, the first assignments were mainly sawing exercises, first with copper and later with silver. Then came some simple soldering works and after a few months we finally got into casting. The hedgehog is the first piece I sculpted from cheesewax along with a gecko. By then we had already designed a few pieces of our own, but to me the hedgehog felt like the first real thing. I loved it. It was fun to make honestly, molding all those tiny spikes one by one and assembling the little hedgies, even though they ended up looking like toilet brushes on the wax tree.
It was also terrifying. It was our first time casting and almost everyone on our class failed pouring the melted silver, resulting in a blob and a bit of the sprues. It was super scary to cast, but with a bit of luck, it was a success. The gecko was missing the tip of his left foot, but otherwise all was good, and nowadays he's a happy fella with a full set of toes.
So the hedgehog is a survivor and holds a special place in my heart – which is why he's also the brand icon. The logo is also of my own design.
Hedgie started as a pendant and over the years has gained a few buddies, all of which will be available in the shop. The collection may expand even more, so stay tuned.
All the school projects from the very beginning are still visible on my Facebook page if you want to see how it all started. Though I haven't translated the old posts, so they only have a Finnish description.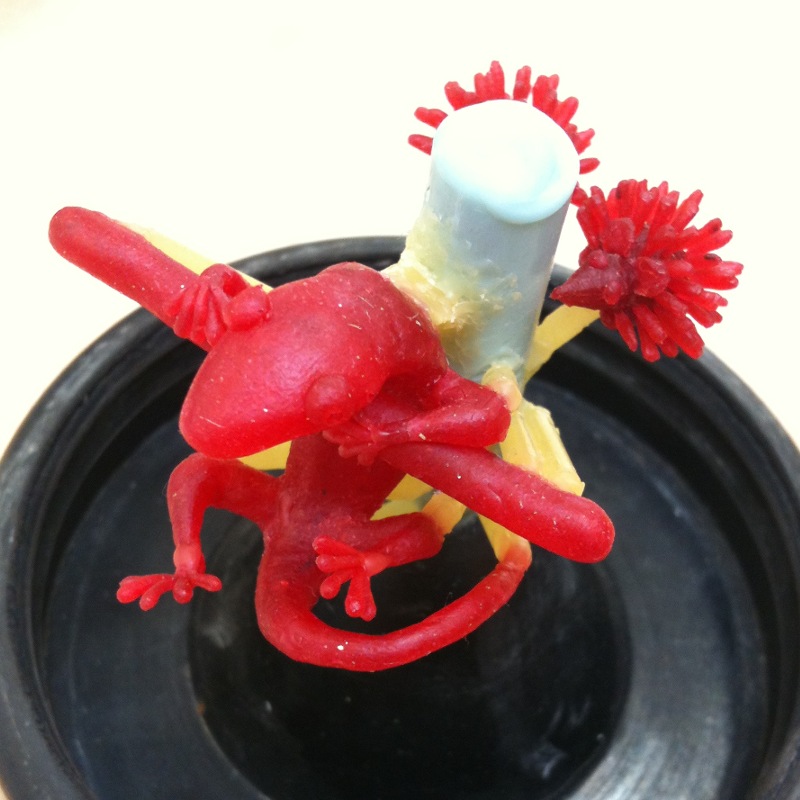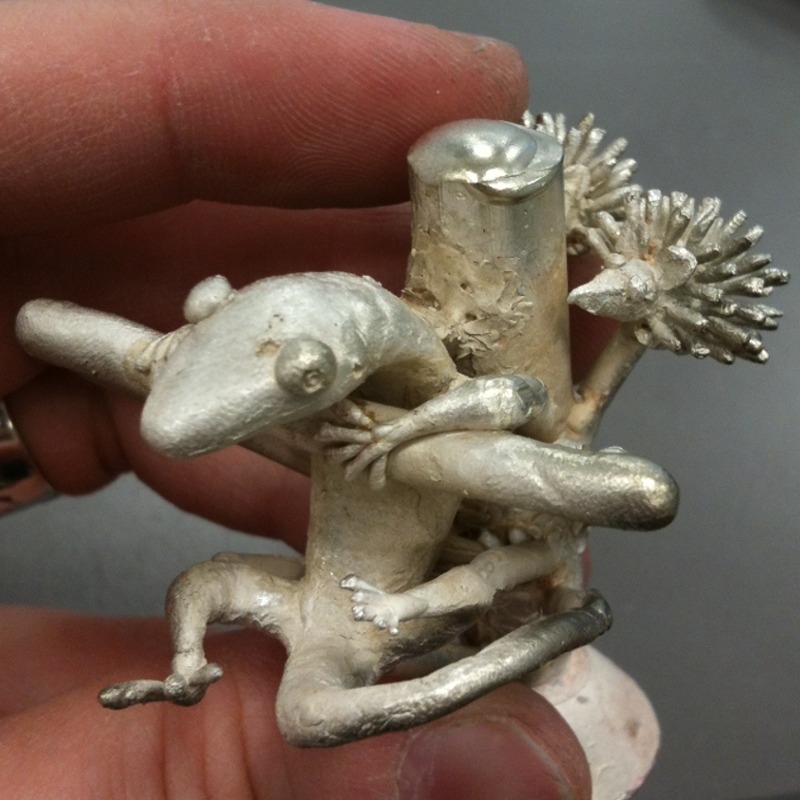 Move the slider to view the pieces before and after casting.